It is my wish that you as my guest feel welcome and comfortable
in my bed and breakfast "Rittershuus" in Lucerne.
Therefore it is important to hear your opinion and find out
about suggestions. Tips for new guests are also welcome.

Thank you for your feedback in my guestbook!

B&B "Rittershuus" - Chambres d'hôtes à Lucerne Suisse.
Je vous remercie pour vos commentaires dans mon livre d'or!

To guestbook: 2013 / 2014 / 2015 / 2016 / 2017 / 2018 / 2019 / 2021
#: A fabulous host !
September 2022
Dear Maria
We hd an excellent stay in Lucerne and your warm welcome and
accomodations were a large part of that!
You are a fabulous host and your attention to detail is noticed and
very much appreciated. We wish you the very best!
Fondly,
Andrea & Dan
#: Many memories !
September 2022
Dear Maria
You have been a great host. You have given us very good suggestions
where to go in Lucerne and surroundings.
Thank you so much for your hospitality, we will take back many memories
of Lucerne, a place I visited nearly 40 years ago!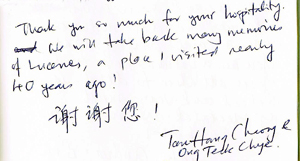 #: Breakfasts in the garden !
Juli 2022
Dear Maria
This is a wonderful journey in Lucerne. We had a great vacation.
Very nice city and sightseeing in the mountains. Living in your house is
a very good experience. We enjoyed having the breakfasts in the garden.
Thanks for your hosting and also the guiding of the city visit.
Very convenient to take the bus to everywhere in the city!
Again, thank you very much!
Family Zeng
#: Your beautiful home !
Juli 2022
Dearest Maria.
Thank you for the warm welcome to your beautiful home
and city. We will never forget being greeted by you hanging out of the window
as we trudged by with our luggage. We only wish we could stay longer,
but, as you said, we now know where to come to. May we reunite soon
and get to hear of your stories and advice. We wish you nothing but
the best until then and hope all your dreams come true.
With admiration
V&A
Washington DC and New York
#: Welcoming hospitality!
Juli 2022
Thank you so much for your welcoming hospitality! We had a lovely
time here at your RITTERSHUUS.
The breakfasts were amazing! We were grateful for your help with
the laundry :-) We also loved your recommendation of visiting mount Rigi.
It was so breathtaking and we were glad we had a sunny + warm day to
enjoy it!
Thank you for helping to make memories with our family.
We will be back someday to visit more of your beautiful city
The Wessels
from California + München
#: Your tips were very helpful!
Thank you Maria! We enjoyed it very much (nice breakfast)!
Your tips for our walks (and bus :-)) were spot on and very helpful.
Best wishes,
the Fitts Family
#: 2 very pleasant weeks!
Jan/Febr. 2022
Dear Maria
Thanks for your hospitality in your beautiful historic house.
The cosy and comfortable suite has been our "home" for 2 very pleasant weeks
and you may well find that we will reappear in the future! Best wishes.
Alison & David Bennet
Yorkshire, England
#: It was a pleasure!
Jan. 2022
Maria,thank you so much for your wonderful B&B. It was a pleasure
to stay here with you. Very cosy and clean.
And we had some really nice conversations at the breakfast table.
Thanks also for the very useful tips that you gave us.
We saw the most beautiful part of Lucerne and its surroundings!
John and Sharon
Brighton