It is my wish that you as my guest feel welcome and comfortable
in my bed and breakfast "Rittershuus" in Lucerne.
Therefore it is important to hear your opinion and find out
about suggestions. Tips for new guests are also welcome.

Thank you for your feedback in my guestbook!

B&B "Rittershuus" - Chambres d'hôtes à Lucerne Suisse.
Je vous remercie pour vos commentaires dans mon livre d'or!

To guestbook: 2013 / 2015 / 2016 / 2017 / 2018 / 2019 / 2021/ 2022

#12: Nice and Cosy B&B!
From 26.12.2014

Dear Maria
Thank you for a lovely stay, your B&B is Nice and Cosy
and we got to see it snow :-)
Many Thanks!
Jerry + Katrina
c/o Gawler churchhill Mews B&B
19 Cowan street Gawler SA
Australia

#11: Wonderful romantic place!
From 9.12 2014

Dear Maria,
From our arrival to our departure, every aspect of your B&B is wonderful!
The room was beautiful, so was breakfast!
What a wonderful romantic place to stay during the Season of Advent,
very cosy with the fire burning in the morning. We highly recommend your
b & b to anyone traveling to Lucerne!!
THANKS and wish you all the best!
(Here the picture of the first snow in Lucerne 2014 )
George & Sophie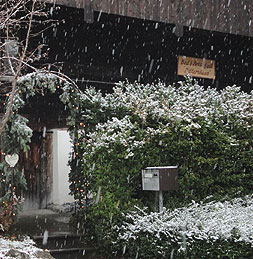 #10: Rittershuus is the best place ever!
From 23.10 2014

Dear Maria!
Rittershuus is the best place ever that we stayed at our holidays.
Perfect combination of naturalness, hospitality and human touch
we feel every moment. Thank you very much for all you`ve done
for us. "Vielen Dank"
PS. Special Thanx for your personal attitude. We appreciated it very much!
Julia & Kirill
Moscow / Russian Federation

#9: Comfortable overnight stay!
From 15.09 2014

Thanks a lot for a very comfortable overnight stay in such a pleasant and great
old house! Lovely breakfast started the next day well!
Chris O. touring motorbike :-)
#8: Your B&B is awesome!
From 14.09 2014

MARIA, BIG LOVE FROM THE STEEL CITY OF PITTSBURGH,
PENNSYLVANIA, USA. YOUR B&B IS AWESOME!!
MIKE E.
#7: A great base to stay for exploring Lucerne and surroundings!
From 02.07 2014

Dear Maria
Thank you for all your warm hospitality & help!
Thanks for organising the bus tickets. This was extremely helpful to us
in finding (some off the beaten path) places. The " Rittershuus" is a great base
to stay for exploring lucerne and surroundings.
The bus stop in front of the house - 10 min. to the main train station and you can
get to the Zürich airport in about an hour from Luzern.
We had a beautiful holiday!
Thank you very much and we hope to see you in wales!
John and Emma Miller
Cardiff

#6: Your dream is lovely!
From 26.06 2014
Thank you Maria! We enjoyed Lucerne`s beauty and atmosphere.
Your B&B is so thoughtfully put together. We enjoyed the comfortable rooms
and all the small details.
We love all the woodworks, made with love and care. Your dream is lovely!
Breakfast was great!
Thank you for your kind hospitality! Best regards,
Lauren, Maeve, Theresa and Carol
California, USA
#5: Superbe endroit!
De 08.06 2014

Merci pour ce magnifique acceuil!
Superbe endroit et merveilleux petit dejeuner dans le jardin.
Un petit coin comme à la maison! A la prochaine c`est certain

Roxanne & Nathalie
de Montreal, Canada
#4: Merci pour tout!
De 07.06 2014

Charmant, accueil, lieu idyllique on l'on reviendra avec grand plaisir.
Merci pour tout!
Famille Ferreira-lescaze
de Genève

#3: "Maison de chevaliers"!
De 30.05 2014

Chère famille Gilli,
Nous avons passé une excellente nuit dans votre "maison de chevaliers"!
Propreté impeccable et accueil chaleureux nous ont ravis et nous ne
manquerons pas de recommander votre havre de paix autour de nous.
Sandrine et André
de Fribourg

#2: Heritage house!
From 09.05 2014

Dear Maria. Thank you for opening up your heritage house as a B&B.
We enjoyed the homely feeling and the small details you looked into to make
your guests comfortable. We loved your furniture too.
We hope to stay with you again in the near future. Thank you for
being welcoming throughout the email communication and in personal.
God Bless u a your family.
Ken and Winnie Law
Singapore

#1: Lovely cosy B&B with wood stove sauna!
From 18.01 2014

Dear Maria. It was a great pleasure for me and my boyfriend to stay
at your lovely cosy B&B with sauna.
We had a great holiday in Lucerne. Everything was just fine.
We slept very good and the breakfasts were delicious. We spend our
days cross-country skiing and climbed Mount Rigi.
We really loved the wood stove sauna you lit for us and we enjoyed a
romantic evening. Thank you so much for the wonderful experience!
We will recommend this place as well as the hospitality of you Maria,
to all our friends!
Eric & Jessica
Columbia, Missouri, USA